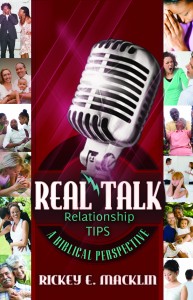 With an extensive history of twenty years of coaching, advising, and leading a Singles Ministry, I've seen my share of broken, healed, delivered and successful relationships.  In this book, I pour out my heart regarding God's way of doing things in such a critical area. If you were to ask, "What was the motivation behind this book of tips?"  I would unquestionably tell you the pain, the tears, the abuse, and divorces I've encountered through various people. My mission for writing this book is that which is spoken of in Luke 4:18, "The Spirit of the Lord is upon me, because he hath anointed me to preach the gospel to the poor; he hath sent me to heal the brokenhearted, to preach deliverance to the captives, and recovering of sight to the blind, to set at liberty them that are bruised."
This book is written to encourage people, regardless of their marital status. Whether they are contemplating a relationship, in one, engaged, married, divorced, or starting over again, the tips in this book are designed to expose the wrong, provide specific biblical instructions on what is right, and encourage. One thing that is—and—will remain certain is the indubitable assignment I am on to: destroy ignorance, remove societal influences, and change statistics in this area that God deems as holy.
As the title of my book suggests, these tips are from a biblical perspective. Having said that, you will not find a scripture attached to every tip, but you can rest assured that none of the tips will contradict the scriptures. The subjects that are introduced cover a wide range of topics from: dating, courtship, sexual purity, rejection, adultery, walking away, commitment, choosing the right one, starting over again and more. So, get ready for an incredible journey.
To Purchase Your Copy  (Click Here To Buy Now!)